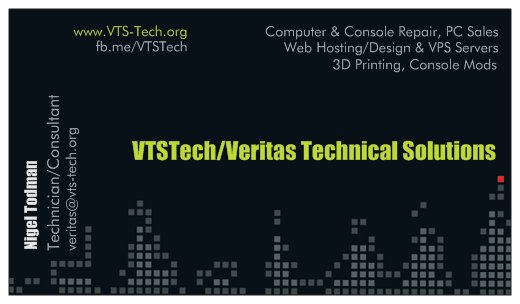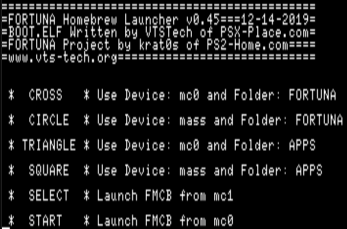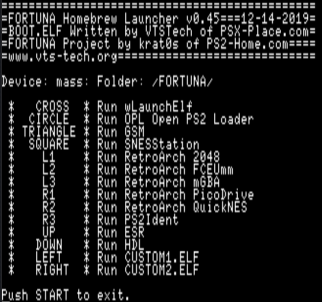 Rename FORTUNA_Launcher.elf (or BOOT-packed.ELF) to BOOT.ELF
and copy BOOT.ELF, usbd.irx & usbhdfsd.irx to your mc0:/FORTUNA/ folder.
It can use the following paths (updated v0.3):
wLaunchElf
mc0:/FORTUNA/WLE.ELF
mass:/FORTUNA/WLE.ELF
mc0:/APPS/WLE.ELF
mass:/APPS/WLE.ELF
OPL
mc0:/FORTUNA/OPL.ELF
mass:/FORTUNA/OPL.ELF
mc0:/APPS/OPL.ELF
mass:/APPS/OPL.ELF
GSM
mc0:/FORTUNA/GSM.ELF
mass:/FORTUNA/GSM.ELF
mc0:/APPS/GSM.ELF
mass:/APPS/GSM.ELF
ESR
mc0:/FORTUNA/ESR.ELF
mass:/FORTUNA/ESR.ELF
mc0:/APPS/ESR.ELF
mass:/APPS/ESR.ELF
HDL
mc0:/FORTUNA/HDL.ELF
mass:/FORTUNA/HDL.ELF
mc0:/APPS/HDL.ELF
mass:/APPS/HDL.ELF
RetroArch
mc0:/FORTUNA/retroarchps2_2048.elf
mc0:/FORTUNA/retroarchps2_fceumm.elf
mc0:/FORTUNA/retroarchps2_mgba.elf
mc0:/FORTUNA/retroarchps2_picodrive.elf
mc0:/FORTUNA/retroarchps2_quicknes.elf
mass:/FORTUNA/retroarchps2_2048.elf
mass:/FORTUNA/retroarchps2_fceumm.elf
mass:/FORTUNA/retroarchps2_mgba.elf
mass:/FORTUNA/retroarchps2_picodrive.elf
mass:/FORTUNA/retroarchps2_quicknes.elf
mc0:/APPS/retroarchps2_2048.elf
mc0:/APPS/retroarchps2_fceumm.elf
mc0:/APPS/retroarchps2_mgba.elf
mc0:/APPS/retroarchps2_picodrive.elf
mc0:/APPS/retroarchps2_quicknes.elf
mass:/APPS/retroarchps2_2048.elf
mass:/APPS/retroarchps2_fceumm.elf
mass:/APPS/retroarchps2_mgba.elf
mass:/APPS/retroarchps2_picodrive.elf
mass:/APPS/retroarchps2_quicknes.elf
SNESStation
mc0:/FORTUNA/snes_emu.elf
mass:/FORTUNA/snes_emu.elf
mc0:/APPS/snes_emu.elf
mass:/APPS/snes_emu.elf
PS2Ident
mc0:/FORTUNA/PS2Ident.elf
mass:/FORTUNA/PS2Ident.elf
mc0:/APPS/PS2Ident.elf
mass:/APPS/PS2Ident.elf
Tested in PCSX2 and Real PS2.
Credits:
pad.c/h from wLaunchElf 8d4a0c2 by AKuHAK and SP193
(wLaunchElf contains code from uLaunchELF by E P and dlanor)
(uLaunchElf contains code from LaunchELF by Mirakichi)
libcdvd_add.c/h & OSDInit.c/h from PS2Ident v0.835 by l_Oliveira and SP193
PS2 FORTUNA Project by krat0s (not included, icon.icn & icon.sys)
Compiled with current PS2SDK as of Nov 2019
usbd.irx & usbhdfsd.irx from /ps2dev/ps2sdk/iop/irx/ as of Nov 2019
Packed with PS2-Packer v1.1.0 by Nicolas "Pixel" Noble
Changelog:
v0.45
Now loading, referencing and including:
/ps2dev/ps2sdk/iop/irx/usbd.irx
/ps2dev/ps2sdk/iop/irx/usbhdfsd.irx
Fixes red screen when using USB.
Must be in mc0:/FORTUNA/ for now
v0.44
Added support for HDLoader
Added support for user specific CUSTOM1/2.ELF
Removed a few 1s delays
Code optimizations
v0.43
Changed button menu display
Experimental FMCB Support mc0/mc1
(Needs testing on non-FMCB compatible PS2)
v0.42
Experimental FMCB support mc1
Removed versions strings/release dates
Code optmizations
v0.41
Correct release date of OPL
Minor text display adjustments
v0.4
Minor code cleanup
Removed few debug messages
Added support for ESR
Bump OPL to r1650
v0.3
Can now use different paths and devices!
Can select mc0 or mass
Can select FORTUNA or APPS
No more sub folders
v0.2
Added GSM
Added PS2Ident
Added many more RetroArch Cores
Now Initializes DVD Drive and stops CD if it is present.
v0.1
First release
pad.c and pad related functions from wLaunchElf.elf 8d4a0c2
Function ResetIOP() from main.c MPLUS-LOADER3.ELF
Function LoadElf() from main.c MPLUS-LOADER3.ELF